Banks profit on the difference between the interest they pay their depositors (checking and/or savings accounts) and the interest they charge for lending that money to others in the form of loans.
If banks are charging higher interest rates for a mortgage, credit card, or auto loan, why are they not paying you more for the deposit that made it all possible?
The Federal Reserve has raised the benchmark funds rate for the sixth time since the Great Recession, and consumer interest rates have floated higher throughout the economy. Although these rates are increasing, a majority of traditional banking establishments still offer low yield interest rates to potential savings account customers.
There are two reasons national banks maintain these low yield rates:
Traditional banks have expensive overhead.
For the bank, it can cost a lot to staff a branch in addition to standard costs such as paying utilities, property taxes, and building upkeep.


Today's banking customers don't shop around.


For the customer, there's no reason to change banks if switching to the competing national branch across the street only earns you a few extra cents each year.
High Yield Online Savings Accounts
vs. Traditional Banking: Comparing Interest Rate Earnings
In contrast to the traditional bank, online banks eliminate the cost of a physical footprint and pass those savings to their customers in the form of higher interest rates, meaning more growth for the customer's savings account. Savings accounts at online banks are FDIC insured and include perks like free mobile check deposits, daily interest compounding, and low (or zero) account minimums.
In return for forgoing a local branch, customers can expect their savings account to grow at the current rate of 1.50% - 2.00% annually. Compare the growth of online savings accounts to Wells Fargo, Bank of America, and Chase who offer rates ranging from 0.01% - 0.09%, depending on the customer's "preferred status" and minimum account size.*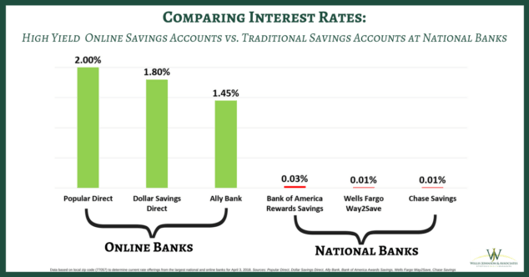 Now, let's put these rates into perspective. Consider you're a high net worth individual with $100,000 cash savings held in an account at a national bank. The account has an interest rate of 0.01%. After one year, your savings will earn $10 in interest, bringing your total savings to $100,010.
Now, consider that instead of using a National Bank, you deposited your cash into a high yield, online savings account with an interest rate of 1.50%. After one year, your savings would have earned $1,500 in interest, bringing your total savings to $101,500.
That's a $1,490 difference in earnings!
So, why would anyone choose to open a savings account at a traditional bank? When might an online savings account NOT be the preferred choice?
Online savings accounts outperform traditional banking options for a majority of the corporate professionals we have worked with, but there are instances when internet banking does not fit the lifestyle or preferences of an individual. The reasons behind such preferences generally stem from the fact online savings accounts live and breathe ONLINE. Online account holders cannot walk into a physical establishment and engage with people and processes that are familiar to them.
For a majority of individuals, the preference for traditional banking methods is primarily relevant when taking out a mortgage, applying for an auto loan, or completing another major financial milestone. An additional inconvenience accompanying online banking accounts is the delay you may experience when transferring funds to or from an online savings account as it may take time for the activity to process and clear your account.
Choosing an Online Savings Account: How to Find a Top APY Savings Account that Fits Your Financial Plan
Not all online banks are a good fit, and you should thoroughly research your options to determine if they suit your unique financial situation and long-term goals. I often recommend my clients use Bankrate to research online savings accounts and compare your options. Follow these steps to try it for yourself:
1) Go to the Bankrate savings accounts savings rates comparison page.
2) Sort the list of online savings accounts by Annual Percentage Yield (APY). This will display the top-paying banks first.
3) Browse your options and compare the perks and requirements associated with each.
What Are the Downsides to Using a High Yield Online Savings Account?
High yield online savings accounts can be a great way to increase your savings without requiring significant effort. However, there are a few complexities that accompany online banking:
1) Online accounts require more administration by the account holder than required by traditional banking. YOU are responsible for moving money between your online accounts.
2) You sacrifice the comforts of a physical branch. You do not have in-person access to the people behind the bank's operations or customer service departments.
3) It can take 2-3 days (sometimes more) to move money between online bank accounts and checking accounts at national banks unless you pay a wire fee to move the funds.
4) ALL savings accounts are limited to six withdrawal transactions per month.
Despite their potential deterrents, we believe high yield online savings accounts are often the best place for our clients to hold their emergency cash reserves. We recommend you consider your options in light of your financial plan to determine which online savings account is the best fit for YOU.
Maximizing your cash earning potential is an easy way to combat inflation and preserve the purchasing power of your rainy day fund. Interest rates are continuously changing, so it's important to stay informed and assess if your bank is doing enough to earn your business.
If you have any questions regarding the benefits of high yield online savings accounts vs. national banks, contact a WJA representative for more information or to schedule a conversation.