Typically, when we discuss the correct investment strategy with our clients, the discussion comes down to selecting a long-term asset allocation for their portfolio in addition to each individual account, which is asset allocation. Some of our clients want to get really conservative as they begin to age and transition into retirement. The reason they have a tendency to get extra conservative is that they've heard for many years that they should have more fixed income in their portfolio as they get older. On the other hand, they might have concerns about the markets and will feel more comfortable holding onto cash.
However, being too conservative can be a problem.
We see this problem a lot when there is an over-allocation to cash or fixed income and not enough equities. Today, I want to talk about inflation.
Growth in a portfolio is necessary to keep up with inflation. Too much cash and/or fixed income may leave a portfolio's purchasing power falling further behind inflation over time. Having an appropriate allocation to equities has been shown to be one of the best ways to combat inflation, which is more of a concern for retirees than the general populace. Retirees do not have an income that is, generally, inflation-adjusted. Inflation is much higher for the elderly than for the general populace considering the fact that retirees are living off of their investments. JP Morgan's chart below shows the higher impact that inflation has on the elderly. Inflation for the elderly (CPI-E) is 5.5% above Headline Inflation (CPI) and 7.3% above inflation for Urban Wage Earners (CPI-W) after 30 years. This difference gets magnified to an even larger extent in high inflationary times.
Over time, inflation can have a massive impact on the purchasing power of a portfolio. It is important to remember this when you are choosing the right asset allocation for your portfolio. Equities are one of the best ways to combat inflation. Too much cash may impact your portfolio's ability to keep up with inflation.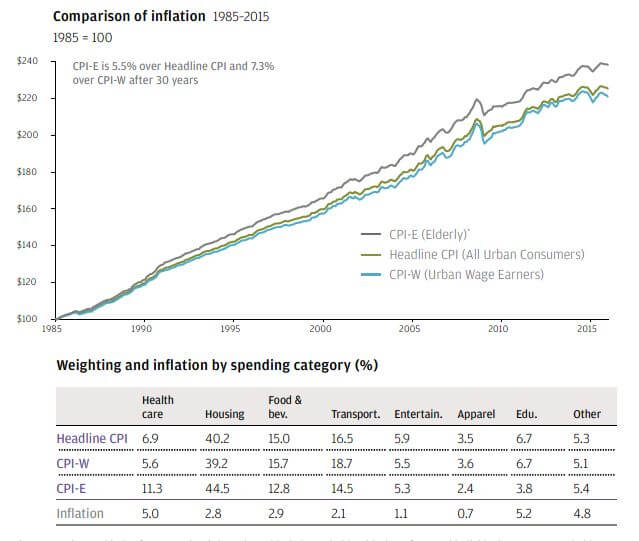 *CPI-E is an experimental index from BLS that is based on elderly households with the referenced individuals at age 62 and older. Headline CPI is also referred to as CPI-U, including food and energy. Graph: Based on Consumer Price Indexes, BLS, J.P. Morgan Asset Management. Data as of December 31, 2015. Table: Weightings: BLS, as of December 2011. Inflation: BLS, Consumer Price Index, J.P. Morgan Asset Management. Data represents annual percentage increase from December 1981 through December 2015 with the exception of entertainment and education, which date back to 1993. The inflation rate for the Other category is derived from personal care products and tobacco. Tobacco has experienced more than 7% inflation since 1986 but each age group only spends 0.5%-0.8% on tobacco (27%-37% of combined personal care products and tobacco), which is a lower proportion than represented in the Other inflation rate.
Investing involves risk, including the loss of principal. No investment strategy can guarantee a profit of protect against loss.