2018 was a year of ups and downs. The strength of the consumer increased going into 2019 as the US unemployment rate dropped to a historic low.
Vice President of Willis Johnson & Associates, Nick Johnson, CFA®, CFP®, offered an analysis on the state of the market going into Q2 in our quarterly market update.
Here are the major takeaways:
Recent Market Performance - Q4 2018 to April 2019 (2:22)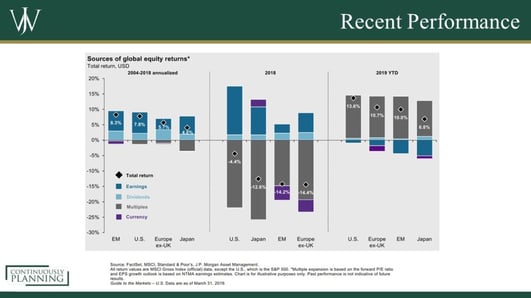 Takeaways
Mid Caps are outperforming both Small and Large Caps YTD and growth stocks are outperforming blend and value stocks thus far.

There's been a major rebound from Q4 to Q1 -- the majority of losses came in the fourth quarter of 2018.

However, in January alone, we had over a 9% return in S&P 500 equities. Growth in February and March has been good, but the majority of returns came just one month after the market dipped in Q4 of 2018.
How did we get negative returns in Q4?
The main cause for negative returns in 2018 came from Q4's fear causing multiple contractions (people willing to pay less for every dollar of earnings) -- there weren't changes in economic fundamentals or earnings expectations, but U.S. GDP Growth slowed in Q4 to 2.6%. Therefore, the cause for the positive performance in Q1 was the price to earning ratio multiple expansion (people willing to pay more for every dollar of earnings) from increased consumer confidence that was lost in Q4.
GDP is growing at a historically slow rate (4:27)

Takeaways
GDP is growing at an average of 2.3% year over year

68% of our GDP is driven by consumption. This GDP growth points to consumers being in good shape.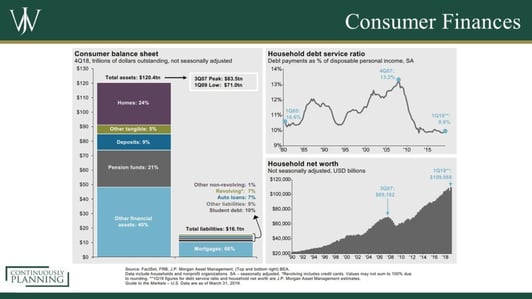 What drives GDP growth?
Unemployment rate is at a historic low of only 3.8% as of Feb 2019 when the 50-year average has been closer to 6.2%.

Wage growth is at 3.5% year-over-year while the 50-year-average is closer to 4.1%.

Debt levels are significantly lower than the 2007-2008 prior peak during the recession at only 9.9% of household disposable income compared to 13.2%.

Household net worth is on the rise with real estate and stock market prices rising as well.
2018 downturn was a correction, not a recession (6:08)
Are we overdue for a recession?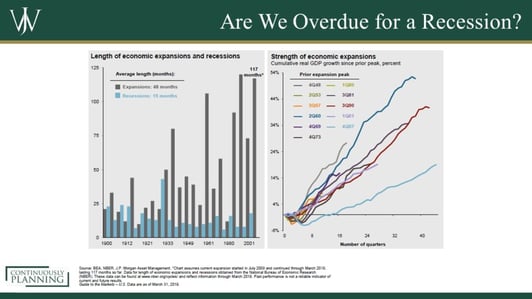 The average expansion is 48 months; we're currently at 117 months. Our GDP growth is slower coming out of the 2007 recession than out of prior expansions. With slower GDP growth, it takes more time to get asset bubbles, more time to get overvaluations, and it takes longer for these things to occur because you don't get the excesses with slow, moderate growth.

Something has to occur to cause a recession -- a major hit in earnings or an overvaluation in mortgages or stock market.

A bull market doesn't die of old age.

Is the U.S. Market overvalued? (7:40)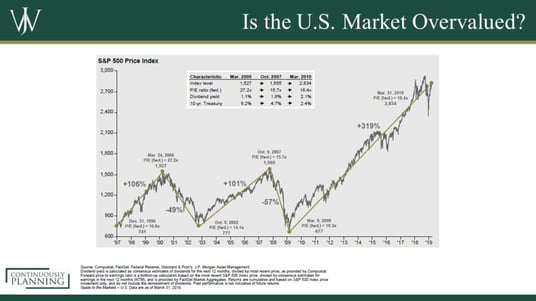 The S&P 500 is up 319% since 2009 at the bottom of the mortgage crisis.

P/E ratio is 16.4x -- is that overvalued? Is now the time to take profits and run?

Historically, the average is 16.2x. We wouldn't start worrying about being overvalued until we reach one standard deviation above the market average, which is 19.4x.
What caused the US earnings growth? (9:27)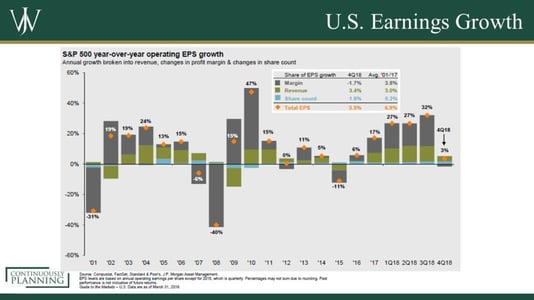 Q1-Q3 had double digit earnings growth, mainly from margin improvement from corporate tax cuts due to the Tax Cuts & Job Act of 2017. The only quarter that didn't have margin growth was Q4, but all quarters had revenue growth and growth in shares from buybacks.

We can't expect to maintain the margin growth continuously at this rate because a large part is due to the corporate tax cuts. Positive revenue growth is solid and sustainable over the long-term.
Internationals have underperformed (10:36)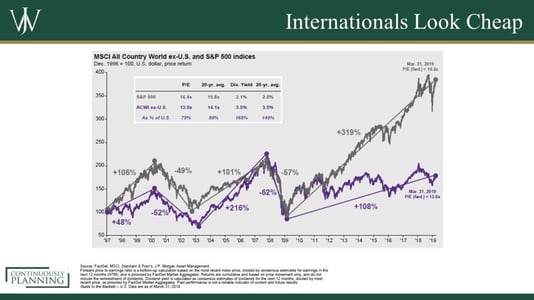 Despite recent lackluster performance, we encourage having a diversified portfolio, and, international equities look cheap compared to US equities.

While US equities on the S&P 500 are up 319%, internationals are only up 108%. That means that while the US P/E is at 16.4x, the international P/E is only 13.0x. For international equities, you're only paying 79% of what you'll pay for US equities and the long-run 20-year average P/E is only 14.1x as opposed to 15.8x.



Global manufacturing momentum (12:12)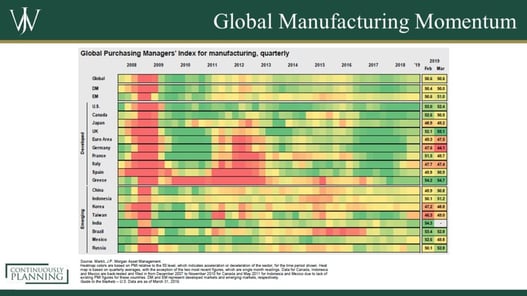 This graph helps show economic strength-- anything over 50 is good. Currently, the US is at 52.4 and globally, we're at 50.6. Generally, if we look across the world, there's mostly green or yellow and almost no red for 2019, which is positive for international markets.
What About Europe? (13:10)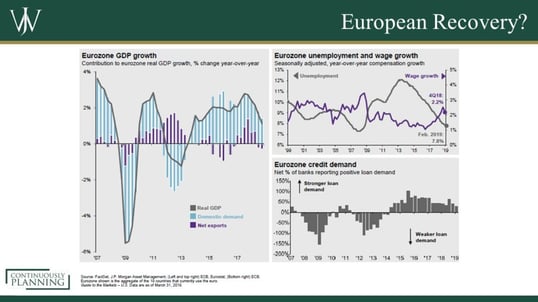 The European consumer is in slightly worse shape than the US consumer. While European unemployment is down, it's still at 7.8% while the US unemployment rate is at 3.8%. The Wage growth is slightly lower than the US as well, hanging around 2.2%.

Domestic demand in the EU hasn't decreased and is still strong. Net exports have decreased due to the difficulty of global trade. However, if trade can be resolved between US and Eurozone, and the UK makes a decision on Brexit, it could have really positive effects on international equities.
The Fed is no longer raising rates (14:52)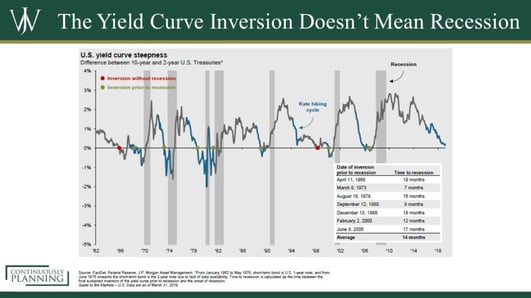 The Fed decided not to raise rates this year. Major economic influences that impacted this decision include: a slow-growing inflation rate, the current status of global trade, and global risks. Due to these reasons, there's been a yield curve inversion.

An inversion of the yield curve doesn't necessarily indicate a recession -- there have been 2 inversions in the last 50 years that did

not

end in a recession

On average, it takes 14 months from a yield curve inversion to become a recession and in recent history that's extending to 17-18 months.

While yield curve inversions are a risk indicator of a recession, they're not absolute.
The risk of higher volatility on trading decisions (18:18)
Is volatility the new norm?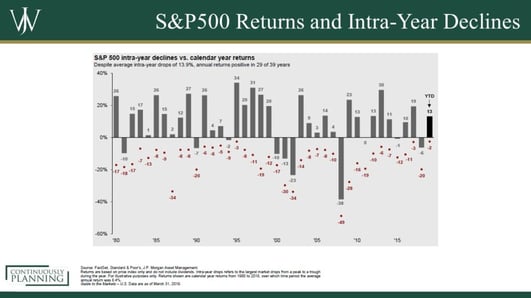 In 2018, there was almost a 20% pull back in the market beginning in October, but the year only ended -6 points below for the whole year as tracked following the S&P 500. The market ran at the beginning of the year but dropped near the end of 2018. Year-to-date in 2019, we're up 13% but we've had a -2 point pullback as of March 31, 2019.

Volatility is to be expected given current valuations, where we stand in the economic cycle, and because of rising interest rates (despite being temporarily paused by the Fed).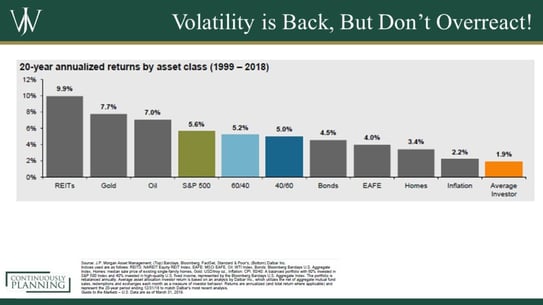 Despite volatility, we expect good returns for the rest of 2018 and also in 2019. However, we foresee lots of volatility in the market, which can cause people to overreact. If you're not thinking long term, you could miss out on higher returns, which could impact your portfolio.
Over the last 20 years, the average investor has done horribly with only 1.9% returns per year when compared to the S&P 500 (5.6% returns per year), 60/40 equities (5.2% returns per year), 40/60 equities (5% returns per year), and even inflation (2.2% returns per year).*


It's periods of time where volatility occurs that the
average investor makes 1-2 emotional decisions that have major effects on their portfolio.
Whether or not you're concerned about the long-term optimization of your investments, it is always worth getting a second opinion about your future financial health.
Contact us
to schedule a meeting with a Willis Johnson & Associates professional today.
*Source: J.P. Morgan Asset Management. "Guide to the Markets." Guide to the Markets - J.P. Morgan Asset Management, J.P. Morgan Asset Management, 31 Mar. 2019
Willis Johnson & Associates is a registered investment advisor. Information presented is for educational purposes only. It should not be considered specific investment advice, does not take into consideration your specific situation, and does not intend to make an offer or solicitation for the sale or purchase of any securities or investment strategies. Investments involve risk and are not guaranteed. Be sure to consult with a qualified financial advisor and/or tax professional before implementing any strategy discussed herein. Insurance products and services are offered or sold through individually licensed and appointed agents in various jurisdictions.