In many industries, pensions may have become a thing of the past, but many oil and gas companies in the Houston area continue to offer them as one of their employee savings program options. In this webinar, the financial advisors of Willis Johnson & Associates will cover pension programs (defined benefit), 401(k)s (defined contribution), and savings options for high earners. Questions addressed in the webinar include the following:

What is a 401(k)?
A 401(k) plan falls into the defined contribution category. With these types of investments, oil and gas company employees are responsible for managing their own retirement benefits, although an employer might make contributions as well.
Growth in a 401(k) is based on how well the investments within employees' portfolios perform. The webinar highlights current contribution limits, discusses restrictions for high-income earners, and breaks down pre- and after-tax contribution options.

What is deferred compensation?
Sometimes referred to as an excess benefits plan, a deferred compensation plan allows additional contributions for high-income earners. Deferred compensation plans may be a common strategy for oil and gas company executives. These plans, which are a supplement to traditional 401(k) retirement plans, are available specifically to high earners.
The webinar highlights the income breakdowns at which deferred compensation plans are available, as well as the tax and creditor considerations involved with these programs.

What is a qualified pension?
Pensions are defined benefit plans that are managed by the employer, rather than by employees. They may be eligible for tax-deferral benefits, and their payouts are set by specific formulas.
The webinar discusses the impact a few additional years of employment at the same company can have on a qualified pension, and how the savings and tax implications of a pension should be carefully considered as part of an overall retirement strategy.

What is a non-qualified pension?
Just as with deferred compensation, there are also income limits associated with qualified pension plans. For high earners, employers may choose to provide excess benefit plans connected to their pensions as well. The webinar covers financial considerations related to potential lump sum payouts for defined benefit and defined contribution plans.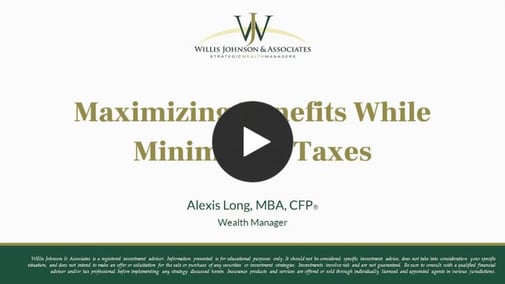 Fill out the form to watch the webinar now

How can you maximize these benefits and minimize your tax burden?
As an employee in the oil and gas industry, there are many tactics you can use to adjust your income and positively impact the tax implications that may surround your retirement funds. Options to consider include wisely timed charitable contributions, smart reviews of retirement timelines, and good decision-making on cash flow and financial disbursements.
Because there are so many variables and limitations involved in making these decisions, it can be difficult to choose the right course of action on your own. An advisor can help you manage tax planning, so you can minimize tax expenditures while working and in retirement. Your needs will change over time, but a knowledgeable financial advisor has the experience to ensure you can make solid financial decisions in each new life stage.
If you're interested in learning more about how our team of financial advisors helps clients prepare for a financially healthy and efficient retirement, meet our team and let's get started.