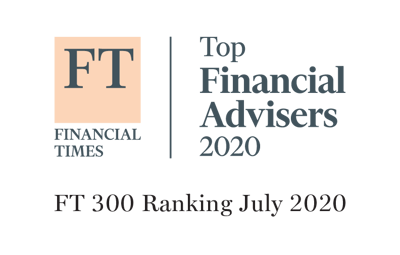 Willis Johnson & Associates was recently named to the 2020 Financial Times 300 Top Registered Investment Advisors for the third year. .
This list is comprised of a group of leading registered investment advisors (RIAs) across the U.S. Their listing is not a ranking, but a collective group of elite firms. Firms listed in the FT 300 are required to manage a minimum of $300 million in assets. The median AUM of firm's on Financial Time's Top RIA list manages $1.9 billion.
The FT 300 ranking evaluates RIAs based on a set of criteria that reflects performance across several key areas, including assets under management, asset growth and compliance record.
Why We're Honored by this Recognition
The FT 300's selection criteria signals experience, performance, reliability, institutional knowledge and accessibility/transparency. It's a confirmation that we're focused on serving our clients well, growing our professional knowledge and meeting their needs.
Being recognized as part of this elite cohort of RIAs indicates having a proven track record of acquiring, retaining and growing assets. It means Willis Johnson & Associates' professional team has a history of success and will use the knowledge gained through past efforts to fulfill our mission of helping you achieve your financial goals.
To learn more about the ranking, or review the full list, visit the Financial Times.
The Financial Times 300 Top Registered Investment Advisers is an independent listing produced annually by Ignites Research, a division of Money-Media, Inc., on behalf of the Financial Times (July 2020). The FT 300 is based on data gathered from RIA firms, regulatory disclosures, and the FT's research. The listing reflected each practice's performance in six primary areas: assets under management, asset growth, compliance record, years in existence, credentials and online accessibility. Over 750 qualified firms applied for the award, 300 of which were selected (40%). This award does not evaluate the quality of services provided to clients and is not indicative of the practice's future performance. Neither the RIA firms nor their employees pay a fee to The Financial Times in exchange for inclusion in the FT 300.