WEBINAR | Thursday, July 16, 2020 at 12:00pm CST
Stock Market Update - Q3 2020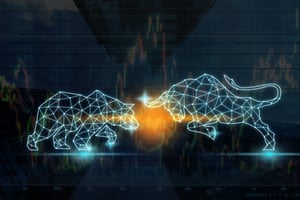 With continuing concerns surrounding COVID-19, uncertainty for investors continues to rise. Between interest rates falling, markets running and dipping, and oil futures temporarily going negative, the last few months have been nothing short of eventful for the US economy. Join us for our quarterly market update reflecting on the current state of domestic and international markets and our projected outlook for the rest of 2020.

After an upswing of earnings at the end of 2019 and news of an impending trade deal with China, 2020 seemed like it'd be the year for soaring stock prices and record-breaking highs. With the outbreak of the novel Coronavirus, we've seen an immediate reversal bringing uncertainty to, not only the markets, but global earnings, unemployment, and more. What can we expect going forward?

WJA President, Nick Johnson CFA®, CFP®, dives into these uncertainties and offers an in-depth analysis of where our economy currently stands. This webinar also addresses the top questions from our clients including:
With the widespread panic surrounding the pandemic, what will the impact of COVID-19 be on the markets & economy over both the short and long-term?

In recent months, we saw stocks climb in February before taking a huge tumble in mid-March. Experts believe the stock market crash of 2020 saw its low on March 23rd and that we've moved past the recession into a swift recovery. If we're truly out of the recession and in a recovering market, how should we be investing and moving forward?

Whether it's fast or slow, there are a few different paths to economic recovery following the global damage caused by the Coronavirus. Despite an unprecedented fiscal and monetary stimulus here in the U.S., cases continue to rise to leave many wondering if and how recovery for our GDP would be possible. We'll discuss the extent of the damage thus far and what the possible options on the road to recovery look like.

Global political uncertainty in 2019 ran high, but we could be in for more as we enter a major election year. When determining your investment strategy, what should you be considering as we get closer to election day?

As part of the monetary stimulus, we've seen huge dips in interest rates. In this low-interest rate environment where real returns for cash are negative, we'll address how you should be evaluating fixed-income options as part of your long-term strategy.
Register now for our quarterly update on the latest investment trends and market projections going forward.
Do you know someone who's looking to improve their investment performance in 2020? Share this with a colleague.