Don't worry about losing your HSA funds if you don't use them this year because the funds in your account will roll over to the following years. Here are a few tips for using your HSA to reduce taxes.
Did you know that you can pay for medical expenses with tax-free money?
A Health Savings Account (HSA) is a great way to pay for medical expenses with tax-free money. But there are a few rules as to how an HSA works:
1. You must have a high-deductible health plan (HDHP). Not every employer offers an HDHP, so you must confirm that you have one first before you contribute to an HSA account. An HDHP is a plan with a deductible of at least $1,400 for an individual or $2,800 for a family (2022). You also cannot be enrolled in Medicare to use an HSA.
2. Withdrawals must be for qualified medical expenses in order to be tax-free. The IRS outlines which expenses are considered qualified and it is a fairly broad list. If you withdraw funds for non-qualified expenses, then you will pay income taxes in addition to a 20% tax penalty.
Although, once you reach age 65, you can withdraw funds from an HSA for any retirement expenses without facing a tax penalty: however, you will pay income taxes on the withdrawals.
3. In one calendar year, any contributions to the HSA must be within the annual contribution limits. These contributions are tax-deductible. In 2022, you cannot contribute more than $3,650 for a single person or $7,300 for a family, with a $1,000 catch-up for individuals over 55. Also, it is important to note that the contribution limits apply to all sources, i.e. you, your employer, any person.
However, funds that are not used in an HSA will roll over to the following years and can be used for future medical expenses. HSA funds can also be used for previous years' medical expenses as long as those expenses were incurred while you were covered by an HDHP.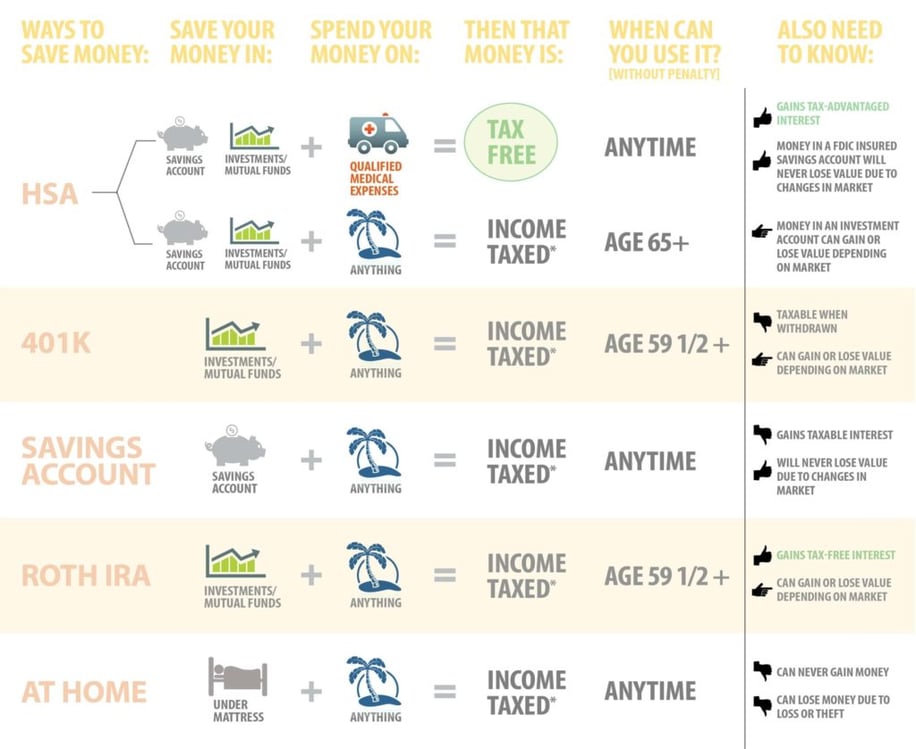 An HSA is incredibly tax-efficient because of the tax-deductible contributions, tax-deferred growth, and tax-free withdrawals for qualified medical expenses. An HSA can be especially advantageous for retirees after age 65 as it can be used for both retirement and medical expenses, which tend to increase with age.