Your retirement date can evoke a multitude of emotions. Your last day of work may make you feel excited, nervous, nostalgic, or a combination of all three. You may not be thinking about strategically choosing your retirement date.
As a Chevron employee, you should be aware of the impact various savings and investment options have on your retirement planning. Your Chevron Retirement Plan (CRP) Lump Sum pension is one of the many tools at your disposal.
You should be aware and knowledgeable regarding the way your CRP Lump Sum is distributed, so you can make a wise, strategic decision regarding the date you set for your retirement. In some cases, adjusting your date by a few weeks can make a significant financial impact when it comes to the total pension amount to be distributed.
What Data is Your Chevron Retirement Plan Pension Calculation Based on?
Your pension will be calculated based on your last date of employment and benefit start date. The IRS regularly releases spot segment rates that are used to calculate the CRP Lump Sum.
Your CRP Lump Sum — "your pension" — is not solely based on interest rates. However, looking at recent interest rates over time can give you an idea of how your lump sum will be affected in the calculation and better educate your decision for when to retire.
Interest rates have an inverse relationship with a lump sum pension. When interest rates increase, lump sum pension values will decrease and vice versa.
How Does Chevron Calculate the Total Amount of Pension Funds You Should Receive?
While the calculation is fairly complex, the following charts can provide you with an idea of the rates used to calculate your CRP Lump Sum and how they can affect the overall pension funds available to you.
When Chevron employees elect the month they would like to begin their pension, Chevron looks back three months to calculate the rate used for the pension disbursement.
For example, if you are planning to retire and start your pension in October 2021, Chevron would use the blended rate available through July 2021 (three months prior to your month of retirement). This example shows three months of rates and how they are blended to determine your rates for various segments of your pension.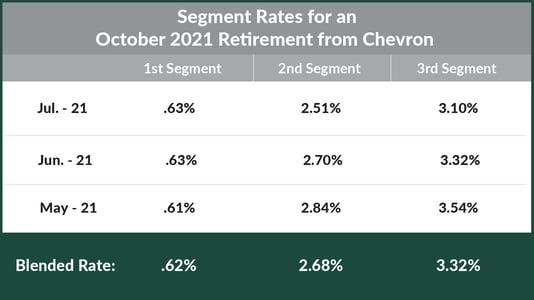 In our October 2021 retirement example, the average of the May 2021, June 2021, and July 2021 rates comprise the blended rate.
The segments refer to distinct periods of pension distribution:
The first segment rate is used to discount (calculate the present value) the first five years of pension cash flow.
The second segment rate is used to discount years six through 20 of pension cash flow.
The third segment rate is used to discount years 21+ of pension cash flow.
Together, these rates and terms are used to calculate the lump sum pension value.
How Might Recent Interest Rates Affect Your Chevron Pension Lump Sum?
Because pension pricing is based on interest calculations, making a slight adjustment in your retirement date may have a significant financial impact on your pension.
As a basic example, consider the following scenario:
Your single life annuity pension amount is $10,000/month.

You retire at 65.

The life expectancy Chevron uses to calculate your pension is age 85.
Based on this information and the segment rates above, your expected lump sum pension value would be approximately $1.933 million if you started your pension in October.
However, your pension calculations will shift depending on the month you choose to retire. As a comparison, if you decided to start your pension in September 2021 (one month earlier than the October 2021 scenario), Chevron would use the segment rates through June 2021. Those rates look back on the time period from April 2021 through June 2021: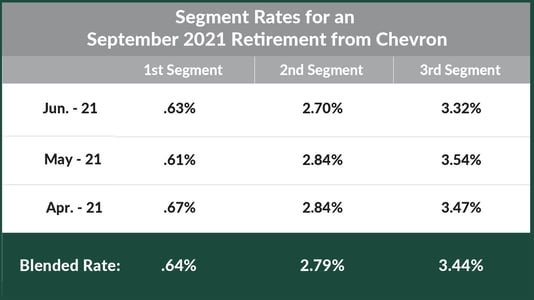 Using the same scenario from above, your expected lump sum pension value would be approximately $1.914 million. If you chose to retire one month later, you would earn an additional $18,796 in your CRP payout.
The pension lump sum value increased for an October 2021 retirement because of the decrease in July segment rates that was factored into the blended rate equation. (Remember, when segment rates decrease, your pension lump sum value increases.)
Let's consider for a moment that you'd retired in August 2021 instead — In August, the lump sum was closer to $1.901 million, so waiting two months to take your lump sum would increase the difference by almost $32,000.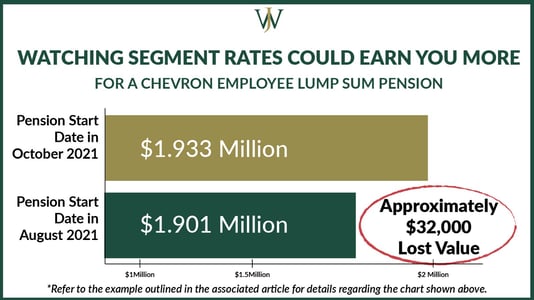 Depending on your pension numbers, the changes in interest rates may have a significant impact on the lump sum value you receive in retirement and could impact your overall retirement planning.


How Can You Plan Strategically to Take Advantage of the Best Pension Calculation Time Frame?
There are various trends you can evaluate to help you plan the best date for your retirement, including reviewing rates published by the Treasury Department.
Segment rates correlate with US Treasury rates; when Treasury rates are on the rise, segment rates will increase accordingly. And, as mentioned, rising interest rates mean a lower pension calculation.

By looking back over a 12-month period and reviewing their predictions, you may be able to get an idea of which direction rates will head in the future. As an example, if during the past several months, rates have trended upward, that has a negative impact on pension calculations.

Time your retirement date to take advantage of the best rate/pension scenario. The look-back window gives you an opportunity to set a time period that's most financially appealing to you.



For example, if you intend to retire in the winter, you will be able to review rates from October 2021 or November 2021 to determine if it is financially advantageous to retire in January or February 2022. The IRS has recently published the July segment rates, which saw the intermediate and long-term rates decrease from the previous month. Rates have been moving up and down fairly consistently month over month.
While in this example, we've determined that an October retirement would equate to a larger lump sum pension than retiring in September, if rates begin to rise, it may be more advantageous to retire before the end of the year rather than waiting until next year for an even larger lump sum.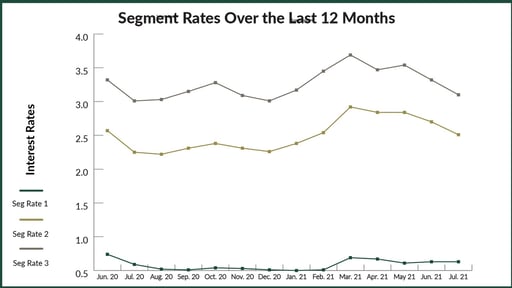 What's the outlook on segment rates and how should you choose your retirement date?
Before the rise in rates in March 2020, segment rates had been coming down since November 2018. Upon the release of January 2021 rates, we saw the intermediate and long-term rates jump significantly. Rates continued to rise pretty consistently the first few months of 2021 before starting to trend back down in recent months.
Back in March of 2020, the Fed significantly increased its spending (approximately $2.9 trillion in less than three months) and announced its intention to continue spending if that's what it takes to get the U.S. economy back on track after the chaos following the Coronavirus pandemic. Meanwhile, the Fed has also announced its intention to push the average inflation to be about 2% to maximize employment and price stability across the nation as part of its strategy for a post-pandemic economic recovery and that keeping interest rates low was a part of the same strategy. While the Fed would like to keep rates low as a way to continue to stimulate the economy, they may begin increasing rates as the market continues to run. Additionally, interest rates may fluctuate as COVID-19 cases stabilize and hospital capacity normalize. Segment rates are based on broad market interest rates, which have declined sharply since late 2018 — whether you're looking at short-term rates (segment 1) or long-term rates (segment 3) — but after the record lows we saw in July of this year, they've started to slowly creep upwards again. With that, it may be more attractive to retire in the final quarter of 2021 instead of waiting until early in 2022.
The primary reason for this fluctuation is the economic outlook. As the distribution of the COVID-19 vaccines began in late 2020 and accelerated through 2021, we saw the economy improve and rates moved upwards. However, as the Delta variant has become more prevalent, the rates began trending downwards with continued concerns surrounding the impact of the Coronavirus. Remember, segment rates and lump sum pension amounts have an inverse relationship.

Segment rates are lower than we've seen in over a decade, but trends and leading indicators point to continued fluctuation in the coming months. It's crucial to be keeping an eye on these rates to determine which retirement date can maximize your lump sum pension amounts.
For many executives at Chevron, taking their lump sum pension in October could mean a substantially higher payout than if they decide to retire earlier in the year, but it's a gamble.
As you prepare for retirement, your pension is designed to provide a valuable means of ongoing support. It's important to ensure you're maximizing the value it provides. Our financial advisors can offer advice and feedback on your pension planning dates, as well as on additional avenues for making the most of your pension, such as tax-planning strategies. Review our process and the ways we can support you in preparing and positioning yourself for retirement.