After two years of COVID-19 quarantines, vaccine discoveries, and ongoing supply chain challenges, many investors hoped 2022 would signal the market's long-awaited return to normalcy. Instead, 2022 brought the worst-ever start of a year for bond markets, an outbreak of war between Russia and Ukraine, and skyrocketing inflation amidst continued market volatility and supply chain concerns. All of this leads many investors to ask — With no obvious or safe option, where should I invest today?

U
.S. Equities — How Did We Get Here & Where Are We Headed?
In the market recovery after the COVID-19 stock market low on March 23rd, 2020, we've seen a 66.8% increase in the S&P 500 as of September 30th, 2022. In 2021, we saw small and mid-size companies outperform; however, in 2022, large-cap value stocks held up the most.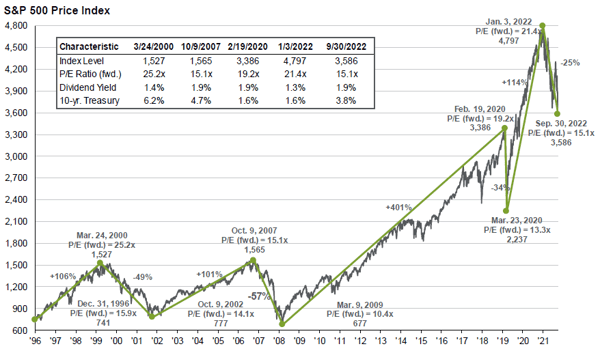 Source: FactSet, Compustat, Federal Reserve, Refinitiv Datastream, Standard & Poor's, J.P. Morgan Asset Management.
Dividend yield is calculated as consensus estimates of dividends for the next 12 months, divided by the most recent price, as provided by Compustat. Forward price-to-earnings ratio is a bottom-up calculation based on IBES estimates and FactSet estimates since January 2022. Returns are cumulative and based on S&P 500 Index price movement only, and do not include the reinvestment of dividends. Past performance is not indicative of future returns. Guide to the Markets - U.S. Data are as of September 30, 2022.
Performance Across Equity Classes
The S&P500 (a large-cap blend of stocks) was down 23.9% year-to-date as of September 2022. Similarly, year-to-date small and mid-cap blend stocks have fallen 25.1% and 24.3%, respectively, after leading the way for most of 2021. However, if we look at performance from 3/23/2020 to 9/30/22, we've seen small-cap value significantly outperform other categories (up 90.1%), including large-cap growth (only up 63.6%) and mid-cap value stocks (up 86.4%).
Historically, we've seen small and mid-cap stocks outperform over the long run with 10-year annualized returns of 8.6% in small-cap blends and 10.3% for mid-cap blends. However, we've started to see 10-year annualized returns for large-cap blend and growth stocks outperform at 11.7% and 13.7%, respectively. While past performance isn't indicative of future results, historical results can provide an interesting lens for considering various investment strategies.
Are U.S. Equities Overpriced?
Many investors express concerns that valuations aren't cheap, but the valuations for U.S. equities have dropped dramatically throughout 2022. The forward price-to-earnings ratio for the S&P 500 as of 9/30/22 is 15.15x. While below the 25-year average of 16.84x, we still hesitate to consider U.S. equities "cheap" at this juncture until their price-to-earnings drop a full standard deviation below the average closer to 13.49x.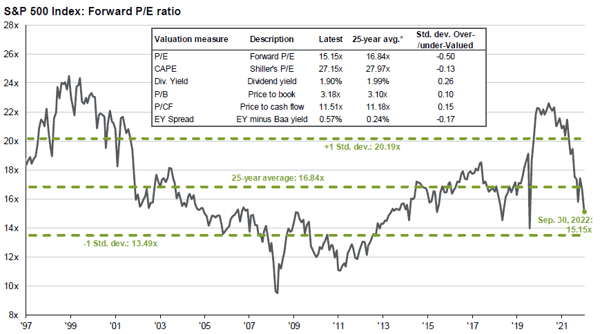 Source: FactSet, FRB, Refinitiv Datastream, Robert Shiller, Standard and Poor's, Thomson Reuters, J.P. Morgan Asset Management.
Price-to-earnings is price divided by consensus analyst estimates of earnings per share for the next 12 months as provided by IBES since June 1997 and by FactSet since January 2022. Current next 12-months consensus earnings estimates are $241. Average P/E and standard deviations are calculated using 25 years of history. Shiller's P/E uses trailing 10-years of inflation-adjusted earnings as reported by companies. Dividend yield is calculated as the next 12-months consensus dividend divided by most recent price. Price-to-book ratio is the price divided by book value per share. Price-to-cash flow is price divided by NTM cash flow. EY minus Baa yield is the forward earnings yield (consensus analyst estimated of EPS over the next 12 months divided by price) minus the Moody's Baa seasoned corporate bond yield. Std. dev. over/under-valued is calculated using the average and standard deviation over 25 years for each measure. *P/CF is a 20-year average due to cash flow availability. Guide to the Markets - U.S. Data are as of September 30, 2022.
One of the primary reasons is that the equities' overvaluation throughout 2020 and 2021 is being corrected, particularly with large-cap growth stocks in the Technology sector. As inflation continues to rise and pushes up labor and supply costs, profit margins have come down. Analysts estimate continued earnings growth through 2024 after being overly conservative with projections throughout 2020 and 2021. With year-to-date earnings growth hovering around 5.1% and the S&P 500 price down 24.8%, only time will tell where the market will go in response to this pullback and changing interest rate environment.

Since 2020, we've seen a significant sector rotation. We've been in a low-interest rate world for a while, impacting growth and value investing, but expect things to change as interest rates rise. In a rising interest rate world, traditional value stocks such as financials, energy, industrials, materials, real estate, and utilities tend to do best. So far, energy and financials are leading the way in 2022. In contrast, many traditional growth stocks (health care, technology, consumer discretionary) outperform in a low-interest rate world.

Additionally, when considering the price-to-earnings ratio of the two sectors, value stocks have a forward PE of 12.09x while growth is sitting at 20.38x as of September 30th, 2022. Comparatively, value stocks are significantly cheaper than growth stocks! We expect that the growth-led market we've seen outperform over the last decade may give way and that value stocks may outperform as we progress.
Unemployment
At the height of the COVID crisis, unemployment skyrocketed to its highest in the last 50 years, at 14.8%. That's huge considering that the 50-year average is 6.2%. However, as of October 13, 2022, U.S. unemployment stayed low at 3.5%.
Additionally, we're at record highs for job openings and quit rates across the country, while layoffs are at still at record lows as of September 2022. As of July and August 2022, there are approximately two open jobs for every job seeker. Interestingly enough, we've also seen a significant increase in wage growth. The 50-year average for wage growth is 4%, and as of September 2022, we've reached 5.8%.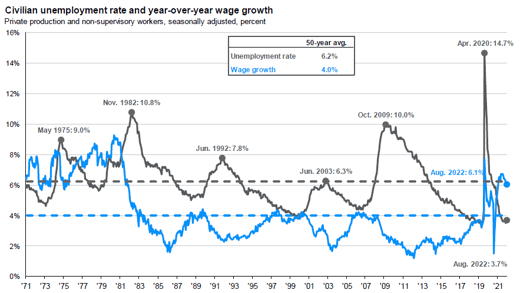 Source: BLS, Factset J.P. Morgan Asset Management.
Guide to the Markets - U.S. Data are as of September 30, 2022.
Asset Classes & International

Markets

REITs and Large-Cap Equities were the winners in 2021 in terms of asset class performance, but Commodities are leading the way for 2022. So, while it's important to avoid chasing what's run recently, it's also essential to understand what causes shifts among the various market sectors and asset classes.
Before Russia attacked Ukraine, we believed 2022 would be the year for international equities to shine. However, developed and emerging market equities are both down approximately 27% year-to-date as of September 30th. Similar to the U.S., international cyclicals correlate to their GDPs. International equities also had a higher yield than U.S. equities by approximately 1.9% as of September 30th, 2022, so we believe they look attractive to today's portfolio investors. When the global economies start improving, we expect many of these international equities to recover and do well in the coming months.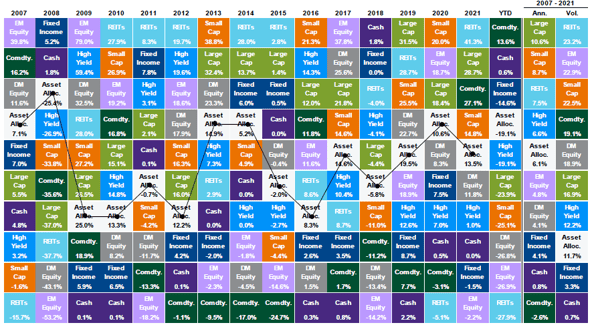 Source: Bloomberg, FactSet, MSCI, NAREIT, Russell, Standard & Poor's, J.P. Morgan Asset Management.
Large cap: S&P 500, Small cap: Russell 2000, EM Equity: MSCI EME, DM Equity: MSCI EAFE, Comdty: Bloomberg Commodity Index, High Yield: Bloomberg Global HY Index, Fixed Income: Bloomberg US Aggregate, REITs: NAREIT Equity REIT Index, Cash: Bloomberg 1-3m Treasury. The "Asset Allocation" portfolio assumes the following weights: 25% in the S&P 500, 10% in the Russell 2000, 15% in the MSCI EAFE, 5% in the MSCI EME, 25% in the Bloomberg US Aggregate, 5% in the Bloomberg 1-3m Treasury, 5% in the Bloomberg Global High Yield Index, 5% in the Bloomberg Commodity Index and 5% in the NAREIT Equity REIT Index. Balanced portfolio assumes annual rebalancing. Annualized (Ann.) return and volatility (Vol.) represents period from 12/31/2006 to 12/31/2021. Please see disclosure page at end for index definitions. All data represents total return for stated period. The "Asset Allocation" portfolio is for illustrative purposes only. Past performance is not indicative of future returns. Guide to the Markets - U.S. Data are as of September 30, 2022.
Additionally, as of September 30th, 2022, international equities' price-to-earnings ratio was around 10.8x while the U.S. remains closer to 15.1x – international equities are discounted by almost 29% comparatively! We are hearing that many people believe that international stocks consistently underperform compared to domestic equities; however, there are periods when U.S. equities underperform for years compared to international equities and vice versa. What's essential to keep in mind is that what's worked recently may not work in the future. Consider this: Small-Cap U.S. equities were the top-performing asset class in 2020. However, in 2021, REITs and Large-Caps outperformed Small-Caps significantly. In 2022, commodities are one of the only positive asset classes year-to-date, so it's important to remain diversified.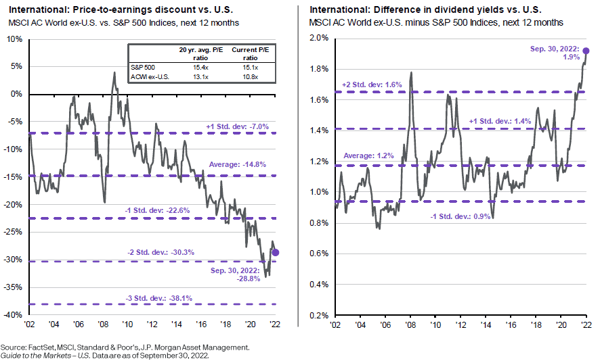 Source: FactSet, MSCI, Standard & Poor's, J.P. Morgan Asset Management.
Guide to the Markets – U.S. Data are as of September 30, 2022.
Inflation Concerns and What it Means for Investors
Inflation in the U.S.
In 2020, the Treasury borrowed substantial funds for stimulus checks and infrastructure spending. Just two years later, headline CPI is up to 8.2% year-over-year as of September 2022 -- for reference, the 50-year average is 4%. The last time inflation reached similar levels was in the 1980s when the Fed raised rates aggressively to bring inflation numbers back down.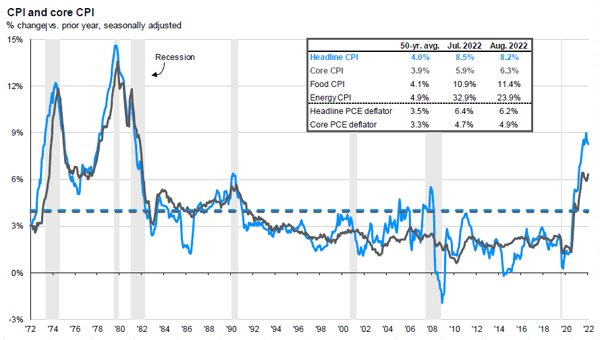 Source: BLS, FactSet, J.P. Morgan Asset Management.
CPI used is CPI-U and values shown are % change vs. one year ago. Core CPI is defined as CPI excluding food and energy prices. The Personal Consumption Expenditure (PCE) deflator employs an evolving chain-weighted basket of consumer expenditures instead of the fixed-weight basket used in CPI calculation. Guide to the Markets - U.S. Data are as of September 30, 2022.
We believe that we're currently seeing supply-driven inflation from a few different contributors. Energy, new and used vehicles, and food costs drive almost half of the current inflation numbers. As the conflict in Ukraine continues, we think the food costs will be an ongoing concern. We also foresee elevated energy prices as global political leaders navigate sanctions for Russia and how that will impact the global energy supply. We've also seen increasing shelter costs driving inflation up, but we hope to see a significant decrease in the housing market's demand as interest rates continue to rise.



Source: BLS, J.P. Morgan Asset Management.
Contributions mirror the BLS methodology on Table 7 of the CPI report. Values may not sum to headline CPI figures due to rounding and underlying calculations. "Shelter" includes owners equivalent rent and rent of primary residence. "Other" primarily reflects household furnishings, apparel, education and communication services, medical care services and other personal services. Guide to the Markets - U.S. Data are as of September 30, 2022.
Another contributor to current inflation is restaurants, hotels, and transportation rebounding from low prices during the pandemic shutdowns and accommodating today's labor and supply costs. Some of the significant contributors to current inflation may be addressed by the end of the year. However, we expect future CPI numbers to rise even further before seeing the Fed's efforts affect and decline inflation.
Interest Rates Amidst Rising Inflation
The Fed completed its first federal fund rate increase in the first quarter of 2022. Since then, the Fed has raised rates in each of their 5 meetings so far this year. The Federal Reserve announced that they'd target raising rates to 4.4% by the end of 2022. These rate increases impact everything from mortgage costs to savings accounts, but the hope from the Fed is that raising rates will also affect rampant inflation. A common concern we hear from clients is that a substantial increase in rates may signal an impending recession. Historically, we've seen that increasing rates may minimize market returns, but the increased interest rates often don't trigger a recession. Along the way, we expect volatility in the market, so that's what to prepare for.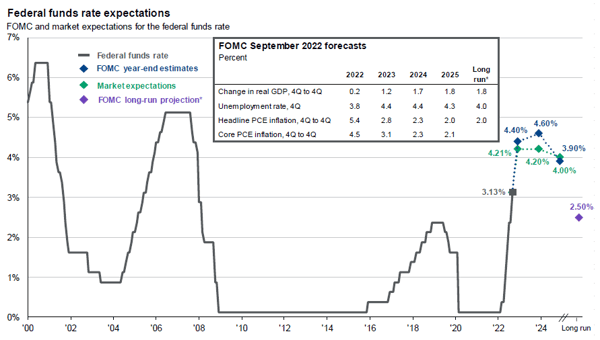 Source: Bloomberg, FactSet, Federal Reserve, J.P. Morgan Asset Management.
Market expectations are based on the respective Federal Funds Futures contracts for December expiry. *Long-run projections are the rates of growth, unemployment, and inflation to which a policymaker expects the economy to converge over the next five to six years in absence of further shocks and under the appropriate monetary policy. Forecasts are not a reliable indicator of future performance. Forecasts, projections, and other forward-looking statements are based upon current beliefs and expectations. They are for illustrative purposes only and serve as an indication of what may occur. Given the inherent uncertainties and risks associated with forecasts, projections, or other forward-looking statements, actual events, results or performance may differ materially from those reflected or contemplated. Guide to the Markets –U.S. Data are as of September 30, 2022.
Many clients ask why keeping fixed income in a portfolio makes sense when we expect interest rates to rise, hurting many fixed-income investment vehicles. The answer boils down to diversification. We include bonds in the portfolio as a protective measure if we see another recessionary event like a COVID crisis or valuation bubble. Despite the short-term, where owning a 10-year bond in an inflationary period means you're losing a bit of money, over the long-term, we believe bonds can help to bolster portfolio returns and reduce risk by utilizing them in conjunction with a systematic target band rebalancing methodology.
As a long-term investor, it's essential to know which types of investments can offer protection as a hedge against inflation. For inflation lasting longer than 24 months (long-term inflation), we tend to see equities (especially materials & energy equities) hold up well. Why? When inflation is sudden and short-term, companies don't have time to pivot, but companies can raise their prices over time to offset inflation and increase their earnings. TIPS perform well over time during longstanding inflation in the bond markets as they rise alongside it.
What's in Store from The Fed: Interest Rates & Fixed Income
Fixed Income
2022 marks the worst start of a year for bonds, where bonds lost 4.09% of their value in the first three months of the year. Year-to-date, TIPS were down 13.61% as of September 30th, 2022, and 30-year U.S. treasuries were down over 30%. Historically, we've seen that when bonds start so poorly in a year's first five months, we see a run-in performance in the seven months that follow. However, by the end of September, we still haven't seen them turnaround so it's something we're paying close attention to in the coming months.

In 2020, the Fed did more bond-buying in 90 days than in 2007, 2008, and 2009 combined in response to COVID-19. Conversely, the Fed recently announced that it would begin tapering down its bond-buying and selling off the assets on its balance sheet to slow the demand side of inflation. We've seen the impact the Fed's increase in rates can have on our clients, especially those from Chevron and BP, so we'll monitor these updates closely for our clients in the coming months.

Despite this, investors need to note that not all fixed income is sensitive to interest rates. We're keeping an eye on the types of fixed income sensitive to changes in interest rates — primarily Treasuries. As we look to hold fixed income within the portfolio as a ballast for diversification, we're focusing on shorter-term asset classes with higher yields and lower sensitivity to interest rates — investment-grade corporate bonds, convertibles, floating rates, 2Y U.S. Treasuries, and TIPS. One of the most common mistakes we see with clients is that they only invest in one type of bond fund!
It's essential to diversify your investments across equities, fixed income, and other asset classes since no one knows which asset classes will do well tomorrow.


How Should Your Respond In Today's Market Environment?
Managing your exposure to risk is critical in making sure your investments are working for you over time. As the market shifts and you move into various stages of your life, it's often necessary for your asset allocation and investment strategy to evolve as well. We believe market volatility is becoming a new normal, so managing risk exposure is crucial. If you're not keeping a close eye on your portfolio, you could be opening yourself up to overexposure in equities or missing opportunities to buy.
Rather than becoming overwrought regarding financial issues and reacting frequently to market conditions, it's important to know how your investment pieces fit together. Understanding their connections and taking a measured approach to your investment portfolio can be key factors in successfully preparing for retirement.
There are a lot of factors involved when it comes to the shift from investing for growth to living off your investments. You want to get it right from the beginning. At Willis Johnson and Associates, we have years of experience helping our clients take emotion out of the equation and positioning them for a successful retirement. Get a second opinion from our experts who have helped hundreds of Houston's energy executives develop the right asset allocation and investment strategy to seamlessly transition into their retirement and beyond.