For super-savers at Marathon, things are looking up. Here are a few of the most noteworthy changes:
Marathon employees can now contribute $19,000 (or $25,000 for those over 50 years old) of pre-tax or Roth savings to the Marathon Oil Thrift Plan.
How Marathon Employees Can Maximize Their Retirement Plan Contributions
It's important to ensure that you are contributing at least 6% of your pay every pay period to receive the full 7% company match. At Marathon, it is easy to miss the opportunity to receive the company contributions, so make sure you do the math every year!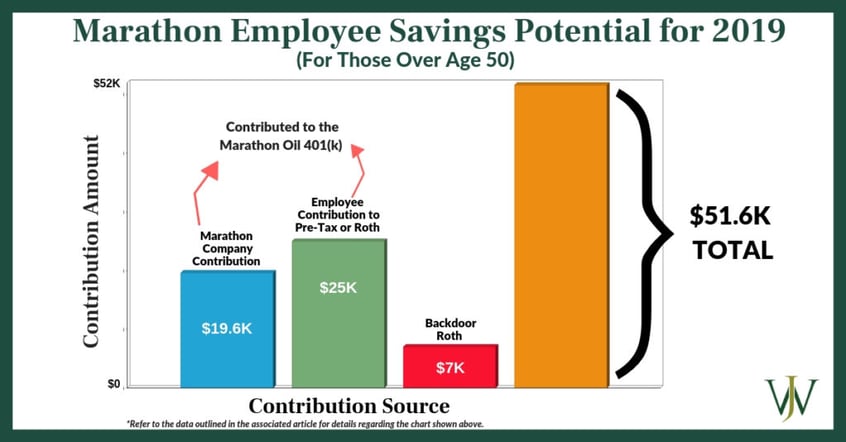 2019 Annual Compensation Limits and Strategic Saving for Marathon Employees
The annual compensation limit for 2019 has increased from $275,000 to $280,000. If you make more than $280,000 in base and bonus compensation for 2019, remember to ensure you max out your Marathon 401(k) contributions prior to earning $280,000 of income. After you earn $280,000 of income in a calendar year, you can no longer contribute to the 401(k).
If you make $120,000 or more annually, you are not eligible to contribute after-tax funds to your 401(k) account. However, you can possibly make after-tax contributions to an IRA and convert that contribution to a Roth.
In addition, many Marathon employees will be able to take advantage of higher contribution limits for backdoor Roths. With the IRA contribution limits now $6,000 (and $7,000 if over age 50), it means super-savers at Marathon can put away $44,600 (or $51,600 if over age 50) between the Marathon 401(k) and backdoor Roths into tax-preferred retirement accounts.
The 2019 limit adjustments will be advantageous for super-savers at Marathon and it is important to be sure that you make the most of these changes. Willis Johnson & Associates will be working with our clients over the next few months to assist in adjusting contributions to ensure they get the full 7% company per paycheck match.
In 2019, we will follow up with clients who are eligible to take advantage of backdoor Roth IRAs to ensure they are on track for success.
If you have any questions about the 2019 contribution and compensation limits, please contact your advisor, or schedule a free consultation with one of our Marathon specialists.