Are you a Shell employee? Now's the time to watch your account for 2019 awards. In February, Shell stock awards were granted under the Performance Share Plan (PSP) and the Long Term Incentive Plan (LTIP).
What are Shell Stock Awards?
This discretionary incentive benefit program is provided to certain Shell employees, based on performance and other factors.
The original Shell stock grant comprises an estimated number of shares. The actual shares vested after three years are based on the recipient's work status and company performance measures. The actual award is communicated to the grantee in March of the third year and shortly thereafter appears in a vested share account at Computershare.
When do Shell Stock Awards become available?
Each year, in February, these stock awards are granted in a restricted fashion. The stock becomes vested (fully owned) three years after the award. This can be a great employee benefit, as an enhancement to compensation and it gives recipients a stake in the success of the company.
While recipients do not own the Shell stock shares outright during the vesting period, they are credited with each vested share's dividends during that three-year period.
Shell Stock Award Season Calendar for 2019: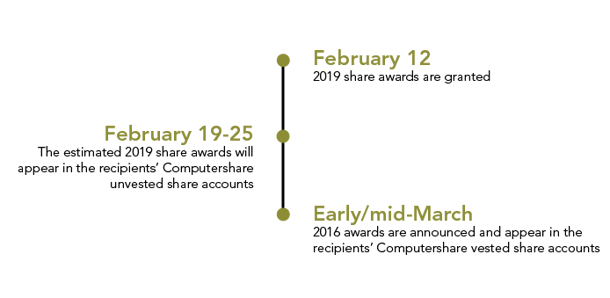 How Should I Plan for PSP and LTIP Shell Stock Awards?
The PSP and LTIP awards require some management for the following reasons:
-- Taxation: Managing and paying the income tax. Timing sales to manage gains or losses.
-- Investment: Building a strategy that best meets short- and long-term goals.
-- Risk: Diversifying assets to reduce financial exposure to the company from which income and retirement benefits are derived.
Will I Be Taxed on My Shell Stock Award?
In most cases, recipients are not taxed when the stock award is granted. When the award vests, recipients are typically assessed income tax (federal, state, and local — as applicable) as well as Social Security and Medicare. (Note: Special rules apply to expatriate recipients who are on long-term international assignment). There are strategies to manage the income taxation, which we discuss in an article later this year.
The amount of the vested award establishes the tax basis of the stock to calculate gains or losses going forward. Short-term gains/losses are realized on shares sold within one year of vesting. Long-term gains are realized on shares sold more than a one year after vesting.
What Happens to Shares After Retirement or Death?
If performance stock recipients retire before an award vests, the amount of shares in which the recipients vest usually will be prorated to the amount of time they remain in service with Shell during the three-year period. If performance share recipients die before an award vests, the full award will be delivered to their estate.
WJA team members are experienced in executive and professional compensation and have helped many Shell employees and retirees plan their objectives and manage their benefits. If you have any questions, please contact us for a consultation.