I was in Dallas last week attending Fidelity's Inside Track conference, an educational event for Registered Investment Advisors (RIAs) who utilize Fidelity's platform.
These conferences have top-tier technical specialists speaking on a variety of subject matter, which I love, but they also allow me to step away from the office and gain a different perspective on the advisory business and the value we provide to our clients.
While at the conference, I had the opportunity to network with others from successful advisory practices and listen to expert insight regarding today's financial planning industry. This information prompted me to reflect on the unique value-add provided by top-notch financial advisors like ourselves. Despite what most people think, this value differentiator is not money management, financial planning, or even tax advice—though I do believe we add significant value to each of those areas.
Ron Carson (from the Carson Group) has said that "our job as advisors is to keep people from doing the wrong thing at the wrong time." David Geller from JOYN put it another way, "Money is emotional. No matter how analytical you are, you can't rationalize your way out of emotional concerns."
Today, there is a growing concern in our industry regarding expense ratios and cost. So much of the world is debating over the effectiveness of passive versus active management, and passive managers are winning. They are seeing considerable inflows—primarily from retail accounts (the average investor's accounts). What's not part of the conversation, and should be, is how the major determinate of long-term investment success is not the difference between the 0.1% expense ratios on passive funds and the 0.75% expense ratios on active funds, but the timing and selection penalty that the average investor incurs when they make poor investment choices about when and what to buy and sell in the market. I like to refer to this loss as the "emotional gap."
The below study produced by Dalbar illustrates the cost penalty incurred from investment expenses (2.9%) that reduce the investor's net of fee returns compared to the market.* However, what's an even greater and widely unbeknownst concern is the timing and selection penalty (6.7%). Again, I often like to refer to this as the "emotional investor penalty."
*Refer to Vanguard's blog for more details on the Dalbar study.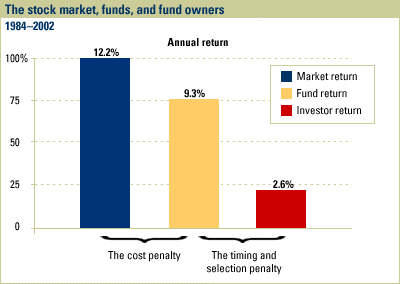 The Average Investor's BIG BAD Decision: Behavioral Decision Making and Its Effect on Investment Returns
It's not unusual for investors to make one truly bad decision every few years. This decision can be something that seems harmless at the time, like feeling uncomfortable about the current market and deciding to wait it out. We frequently observed this kind of emotional decision making in 2011 as many people suffered from post traumatic stress following the 2008 recession. They thought the market had run a huge amount from the bottom, which resulted in their preference to sit in cash, bonds, or an overall much more conservative allocation than they would have in otherwise normal times. Having cash in the bank provided reassurance, but what it did not provide was growth. As a result, the opportunity loss investors experienced from 2012 to 2018 was massive and is unlikely to be compensated for in future years.
The nearly 300% run in the S&P 500 in 2018 from the bottom in March of 2009, as well as the fact that we are now in the longest bull market in history, has elicited concern among a number of our clients who are worried about the market's future. I have talked to some clients who believe it makes sense to dump all of their international holdings. Others believe that bonds do not make any sense and we should simply be holding cash. Still, others see this bull market as never ending and have asked if we should be rotating all of their conservative fixed income positions to aggressive equities.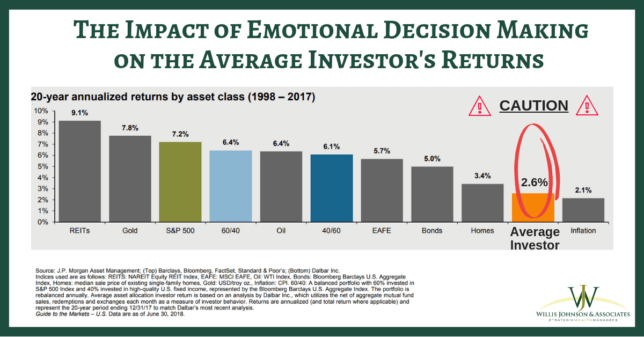 The dilemma with the emotional influence on investment decisions is that it can feel subtle but have an outsized impact. For example, there is a general consensus among investors that:
• Trump and his tweets will cause the economy to tank
• Interest rates are going to go up (which, believe it or not, has been the consensus and been wrong for almost a decade as seen below)
• International equities should not be part of the portfolio due to recent poor performance
What all of these thoughts turn into is poor asset allocation and timing decisions—the "emotional gap."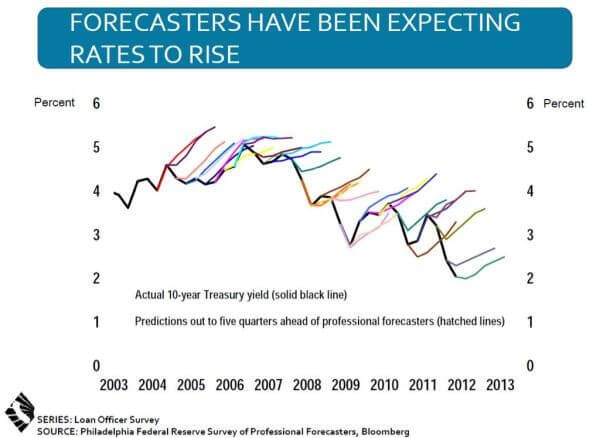 One of the conference's more intriguing data points was presented by Fidelity. They illustrated how investors tend to buy what is working and sell what is not. In light of this strategy, let's take a look back at the 2009 market crash. As you may know, Fidelity is a giant in the 401(k) world. As such, they have a massive amount of data concerning how 401(k) plan participants are investing. According to Fidelity, at the peak of the market in 2007, baby boomer 401(k) participants who were not working with an advisor were allocating about 74% of every dollar contributed to equities.
At the bottom of the market in 2008, these same plan participants were only allocating 64% of every dollar contributed to equities—that's a 10% decrease. Now, that may not sound like much, but the absolute best time to be purchasing stocks is near the bottom of the market. According to Fidelity, baby boomer plan participants that were working with advisors only saw a 1% decrease in equity allocation from before 2008 to the bottom of the market, while retail investors suffered a 10% decrease. In this case, the financial advisors were able to convince clients who were reacting emotionally to take a potentially large mistake and turn it into small ones. As a result, the advisors reduced the negative impact of emotional decision making and increased the long-term value of their clients' investments. For a majority of client-advisor relationships, this is viewed as a success and is a common example of how proactive advisors can provide value to their clients through active consulting and custom financial planning.
Your financial advisor should work to remove emotion from your financial life and assist you in making prudent decisions based on complete information instead of gut-checks or the most recent news headlines. The industry is aware of this. For example, Vanguard, the original leader in low cost investing, has been hiring a record number of CFPs to assist in advising clients because they know having low cost investment options alone will not result in optimal long-term returns. Robo-investing mammoths such as Betterment and Personal Capital have been hiring advisors that investors can call and consult with before adjusting their portfolio. This service functions to help investors avoid emotional decision making that can significantly impact their financial future. Dimensional Fund Advisors (DFA) only sells their passive plus mutual funds that focus on five-factor beta based on modern portfolio theory to investors through advisors. They do this because they know that to keep clients from making irrational choices with their timing and asset allocation decisions, clients need a watchdog advisor.
Whether or not you're concerned about the long-term optimization of your investments, it is always worth getting a second opinion about your future financial health. Contact us to schedule a meeting with a Willis Johnson & Associates professional today. goal is to really get to know his clients, all the while providing a proactive approach to comprehensive wealth management.